This month, our item (Ref: LS2023.0080) is chosen by committee member Andrew Martin, who has selected a set of documents from the early 20th Century. These are 30 pages of an Agricultural Census for the farms within the Isle of Ely.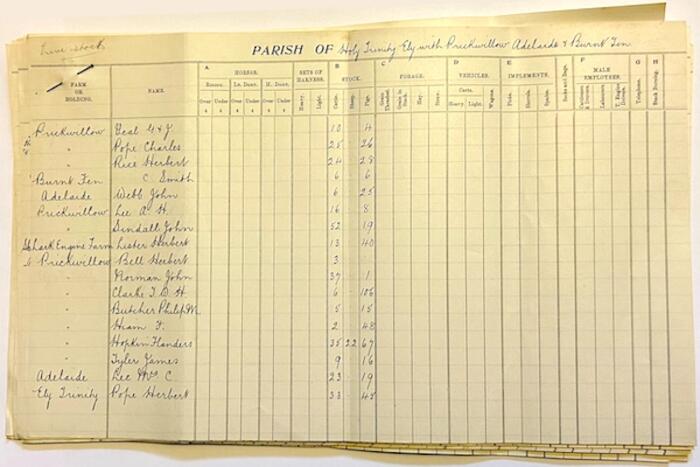 According to the Parliamentary archives, the first Agricultural Census was taken in Great Britain in 1865, detailing the volumes of various livestock across thousands of farms. This practice has continued each June since, adding crop yields, workers, and farming 'products'.
These documents, which record each of the farmers in the villages including Littleport names each farmer, and detailing how many cattle and pigs they have. There are many other parts to the documents, but these are left blank. Despite these empty fields, the documents are not only a record of farmers, farming, and size of farms in the area, but may be of interest as a source for family history.
Sadly, the documents don't name the farms themselves, and the pages are un-dated, but through a process of elimination we know that they pre-date 1927, as one of the farmers listed is known to have died in the summer of 1926. With further research we may get further to the actual year.
Latest acquisitions
Some of this month's newest items arriving in our archive include;
Roman Bone Cloak Pin
1930 Washington's Bus Service Time Table
1906 Advert for Hope Brothers Ltd
Antique crested cheese dish with 'Good Luck from Littleport' printed on it.