The day finally arrived when Thomas Peacock, the founder of Hope Brothers Ltd factory was officially recognised for all that he did for his home village of Littleport.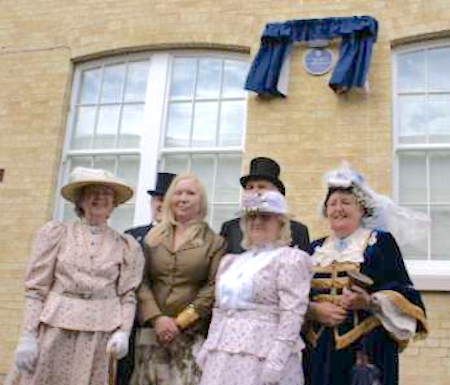 Thanks to the family of his brother William (to whom he was very close), a plaque was presented as a gift to Littleport and unveiled by Valerie Beattie. Thomas was her great, great, great uncle.
The Whitfield Group, who purchased the factory after its final closure proceeded to convert it to luxury flats, gave The Littleport Society permission to mount the plaque on the side of the building in White Hart Lane (once known as Factory Lane).
The weather was good and thankfully a very large crowd had assembled for the unveiling. I am sure Thomas would have appreciated every moment – from the Ely Town Crier, to the people dressed in Victorian costume including a Mary and Thomas Peacock look-a-like.
An opening speech was given by our Chairman Grenville Goodson, followed by Valerie Beattie who stated that before last November she knew very little about members of the Peacock family. She said that as a child she had heard mention of Hope Brothers but it meant nothing to her – until she and her partner John were looking through a box of items left by Valerie's late mother, a postcard with an address on the back, which stated: Miss Flanders, Vanbrugh House, Victoria Street, Littleport.
Valerie was aware of a Flanders connection and that was it, a jubilant Valerie contacted Bruce Frost, the information she received left her speechless and partner John was on the case. Vanbrugh House was one of the houses Thomas had built for family members and Amelia Flanders was found. The quest then started in earnest. Amazing when you think what finding one postcard can do.
The curtain covering the new plaque was opened to loud clapping from the crowd, who were then invited to partake of refreshments and view the exhibits in the Village Hall (formerly called the Constitutional Hall). Thomas would have been very proud and pleased of the venue, as he had a hand in building the hall.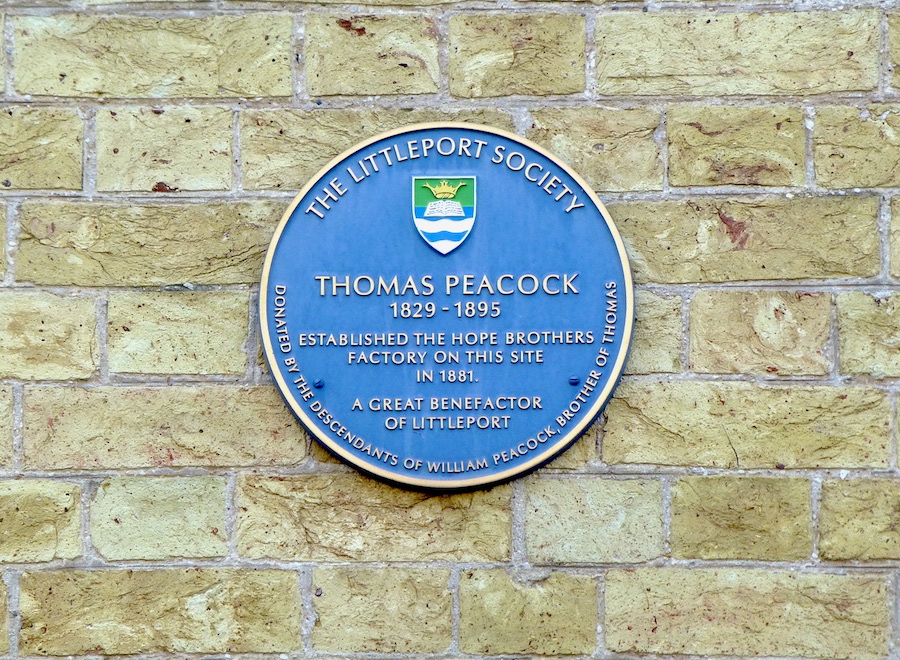 The Women's Institute is to be commended on the super display of food, which not only looked good but tasted as good as it looked!
A penny farthing cycle and another Victorian cycle were on display, kindly loaned by Mr & Mrs David and Beryl Smith. Attending were Mr & Mrs Colin and Margaret Bedford from the March cycle club, Mr & Mrs John Smith had a wonderful display of Victorian skates and lots of skating pictures, Mr Garth McGowen (Mac) was in charge of the bookstall. Mr Des Smith decorated the stage with a picture of Thomas in pride of place, in front of this were family photographs loaned by Valerie, the large bell and the later whistle that were used to call the employees to work.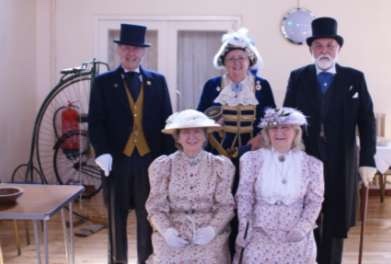 A very long family tree which made a lot of work for our resident family historian (amongst other roles) Bruce Frost, and many artefacts from the Society archive which included wills, photos, recipes and information on the family. Thanks to Mr Des Smith and Mrs Ann Lightowlers for all their help. A cake was then cut by Valerie Beattie and David Whitfield.
It was a truly remarkable morning and enjoyed by all, such a joy to see so many interested people, in particular many of the former factory employees. It was great for them to get together, I think everyone will agree it all went like a dream; I would like to add my personal thanks to anyone who helped in any way and to everyone for attending, not forgetting those who have donated photographs of the day.