A 19th century factory building stands at the heart of Littleport, reaching high above the neighbouring houses. Whilst it is now home to the residents of Burberry Court, it was once filled with the busy workers of clothing manufacturer, Hope Brothers Ltd.
Origins of Hope Brothers
If you're expecting the story of Hope Brothers Ltd to begin with Messrs Hope and Hope, then you're in for a surprise – they didn't actually exist!
The Hope Brothers Ltd company was founded by Cambridgeshire man Thomas Peacock, who was born in 1829 at Black Horse Drove, Littleport.
Thomas Peacock's vision
After several years of experience working with Robert Sayle of Cambridge, Thomas was up and running with a number of shops under his own Hope Brothers name. Understandably, Thomas wanted to increase profitability of his business by manufacturing his own clothing stock rather than selling that of others.
His search for a manufacturing site was fuelled by his desire to bring employment to a local workforce, whilst taking advantage of the growing market for mass-produced clothing.
At the core of Hope Brothers was a vision to bring 'hope', and his fenland home village of Littleport was set to have some of it.
The factory at Littleport
The factory, built on land purchased on the corner of Victoria Street and White Hart Lane for £530, became a major local employer for women and girls, to whom Hope Brothers advertised directly in newspapers during the 1880s-1900s.
This early advertisement was featured on the front of The Lynn Advertiser, reaching potential employees at Cambridgeshire and Norfolk's border.
"WANTED, twenty experienced machinists, to work Thomas's and Wheeler and Wilson's machines, for Shirt and Collar making; also ten good Ironers for the laundry. Constant employment to good hands – Apply, to Hope Brothers, Hope Factory, Littleport"

Wanted &c., The Lynn Advertiser, Page 1, 16th December 1882.
This employment was a lifeline for many women, mothers, and 'respectable young girls', and enabled many to earn their own money and independence away from working in agriculture, or the decreasing positions in servitude at large houses. At one point, 400 women worked for Hope Brothers, and this included many who worked from home.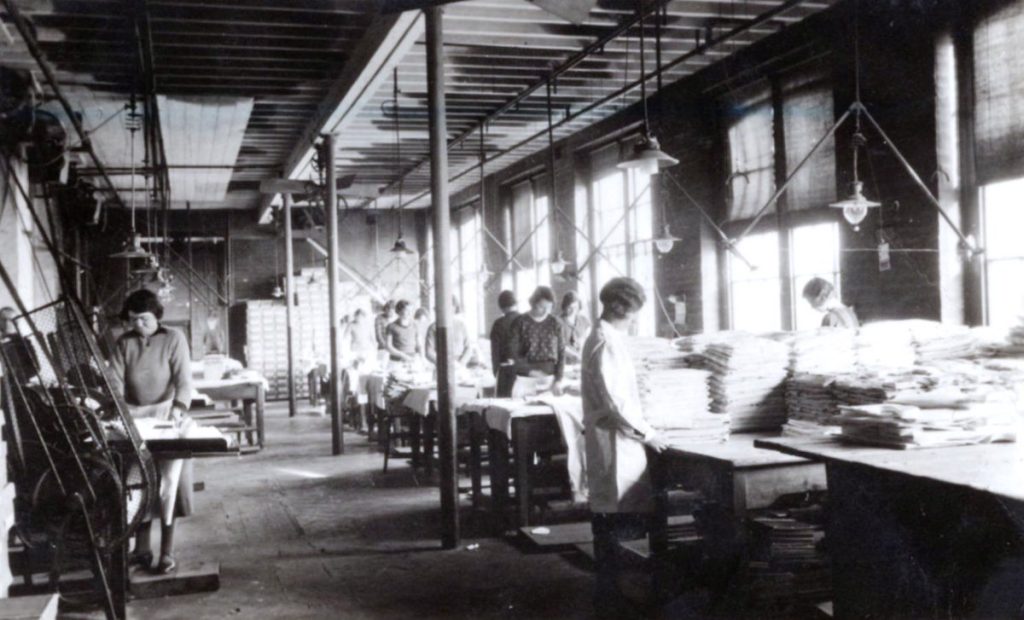 The company became hugely successful, building up the chain of shops and further factories at other sites. Surviving the economic fluctuations of the 1910s and the roaring 1920s, the company found success with products such as the Solus shirt. For a period during the 1950s, Hope Brothers were even manufacturing the England football kit.
Not just a factory
Thomas Peacock may have been a Victorian factory owner, but he understood that the general happiness of his workforce could benefit his business in a way that marks him as a forefather of a lot of 21st century employment.
Not only did he employ a large workforce but he also funded facilities that enabled them to relax, enjoy themselves, and get to know each other. He funded Alexandra Hall on Victoria Street in 1888, where his staff (the women only) could meet to socialise, access a library, learn new skills, play tennis, and enjoy the luxury of baths.
He also had 'Beaconsfield Terrace' constructed on City Road, as a place to house his workforce, just round the corner from the factory. These homes still stand today.
In 1892, he also paid for the levelling of land at The Moors, on the north of the village, and by the end of that year it became home to the Littleport Skating Club. They ran competitive fen skating championships that saw crowds of thousands flock to watch competitors from around the world.
After Thomas died prematurely in 1895, the factory and many of these staff facilities remained safely within the Hope Brothers company rather than be sold off or inherited.
This attitude to his workforce perhaps explains why so many staff members stayed for so long – one, Miss. Elizabeth Crabb, stayed for 60 years.
Burberrys
In 1957, and with Hope Brothers Ltd a success, a fierce bidding war broke out between Burberrys and Debenhams, with the former winning the bid.
By 1972, retail habits were changing and the Hope Brothers clothing brand was dropped. The Littleport factory then became home to production of the famous Burberrys trench coat.
Closure and conversion
The factory ran on until 1998 when Burberrys announced it would close the site, blaming cheaper imports for a decrease in profitability. The site was sold to clothing manufacturer Brompton of London in November 1998, but just a year later they were ready to sell it on.
The building ceased life as a factory when it became the property of the Whitfield Group, who converted it into the flats and houses of today's Burberry Court.
In 2011, at the request of The Littleport Society, the Whitfield Group allowed a commemorative blue plaque to be mounted on the White Hart Lane side of the factory. Dedicated to Thomas Peacock, it remains today to mark his achievement in bringing work to thousands of local people.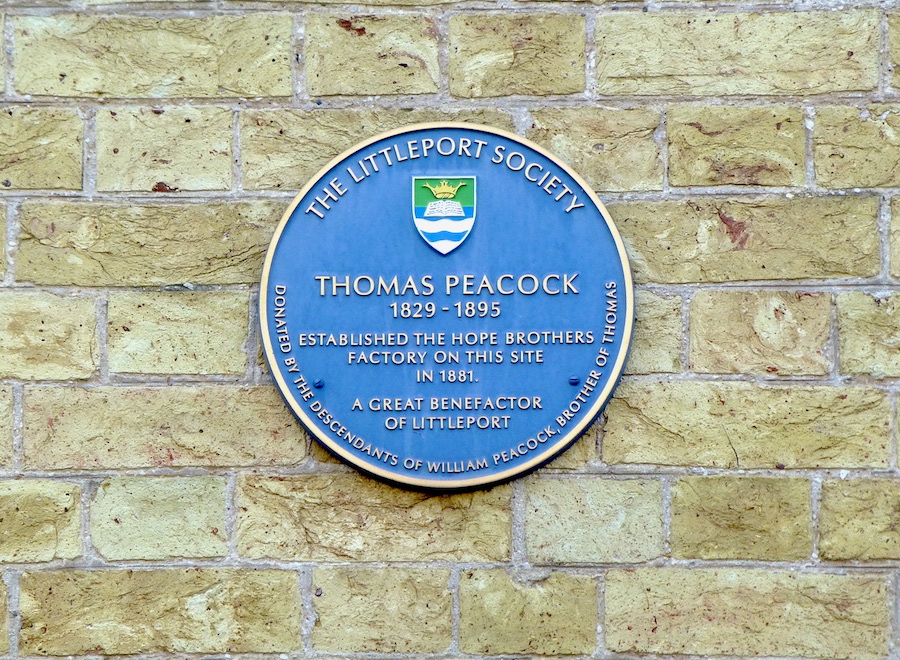 The Littleport Society holds many original items from the factory, that would have been very familiar to the staff, including the factory bell, the deafening steam-powered whistle, and many other tools and accessories used by the workforce.
In addition, the Society also holds a significant collection of Hope Brothers' clothing items, including coats, hats, gloves, and shirts. You can browse our Hope Brothers Ltd artefacts at our Archive or via our online catalogue.
More local history
Explore more of Littleport's rich local history from The Littleport Society, or take a look at our local history gifts.
A Wonderful Man
The story of Thomas Peacock and Hope Brothers
---
Main Image: A view of Hope Brothers Ltd on the corner of Victoria Street and White Hart Lane, inset with a portrait of its founder Thomas Peacock. Ref: LS2023.0003.