From the late-Victorian period, a David Robert Spencely (1865-1928), ran a photography studio on Main Street, where the Forbuoys shop stands today.
The Spencely family already had a shop on this site, which was run by David's widowed mother Lucy Spencely, and which stocked a range of stationery and books. During December though, a store room at the rear of the shop would be taken over by Father Christmas who had seemingly struck a deal with Mrs Spencely to use it as a showroom in which children could show their parents what they would like him to bring them for Christmas.
Photography
In about 1891, David added photography to their business concerns under the name 'D. R. Spencely' whilst his mother continued with the shop.
From there, David would take photographs of many willing subjects from across the Cambridgeshire area usually as part of a big occasion – particularly engagements and weddings, coming of age, and then more informal shots as photography became less expensive.
His business became a success, and customers were posing for photographs that would be printed as carte de visite (or 'CDV') – a popular format of the time. These were small pocket-sized photographs mounted on card, commonly with the photographer's name printed or embossed elaborately on the front and back.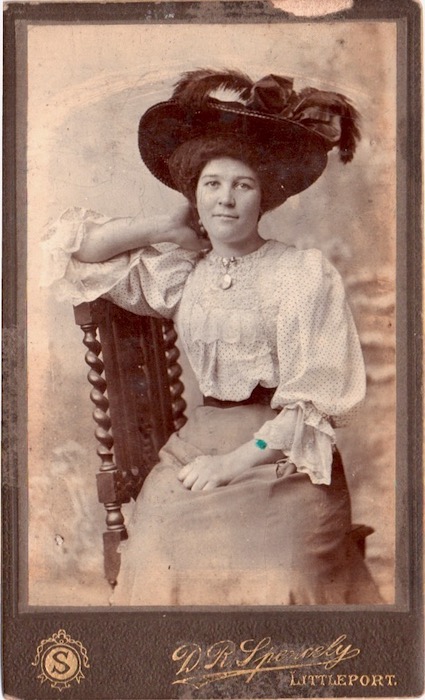 This format was popular until the early 1900s, by which time larger Cabinet Card prints became possible, leading on to printed photographic postcards a bit later.
Postcards
In a deal with the local publisher of Barber's Almanack – a William Charles Barber of Victoria Street – David's photography would start to find itself being sent to loved-ones around the world on the front of numerous postcards of the village.
These postcards frequently featured St. George's Church at Littleport. Whilst this was undoubtedly a well known view in the village, this also acted as the perfect advertisement for both the Church and David's studio, and a money-spinner for Barber.
Disaster photography
There are also a few examples of what might now be deemed 'press photography' by David. These are photographs of newsworthy incidents – namely disasters.
Whilst this market was dominated by other photographers like Warner Gothard (who had left Littleport for Yorkshire by this time, and was producing mining disaster collage-type postcards), there are examples of David's 'disaster photography' too, with the railway unfortunately providing a common opportunity.
One such occasion on 7th April 1906, saw the Norwich Express train de-railed at Shippea Hill. David was there to capture the aftermath, and the photograph was soon printed up into postcards.
Business closure
Whilst David's mother Lucy had died in February 1914, the Spencely studio operated until at least 1921, when David appears in the Kelly's Directory. David died in Cambridge during September 1928 after a short illness. He was survived by his wife Agnes and daughter Mabel.
Despite being a photographer, we are yet to locate a photograph of David, his own family, or of the front of his shop/studio at the time that he ran it.
If you have a 'D. R. Spencely' photograph, we'd love to see it. Alternatively, you can see our growing collection of Spencely artefacts in our online archive catalogue.
More family history
Discover more family histories with The Littleport Society.